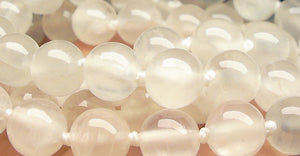 White Calcite Liquid Gem /Vibrational Essence
White Calcite Properties 
The Guardian of Clear Calcite explains...     
White Calcite is a gem that helps to stimulate spiritual growth.
It has a wonderful trait of increasing one's awareness of oneself and the world around us. It is through awareness that we can gain a greater understanding both within and without to really have a full experience of life. 
White Calcite tends to gravitate to the crown chakra drawing in energy from the higher to benefit the user. Through this, it brings amplification of energy to the being - increasing the light quotient and raising the frequency. It helps to improve personal flow on all levels, bodies, systems, and meridians.
White Calcite also regulates the energy field.
The benefit of this is that the energy one has can be evenly distributed that one is less easily depleted in one area or another maintaining an even flow throughout. It can be a great tool to shift negative energy to the positive bringing upliftment. 
White Calcite has a very positive effect on the eyes. With time it can even improve eyesight. It also helps to cultivate psychic seeing and visions.
It reduces tension and can be used to help relieve migraines. 

Liquid gems are available in several sizes including refill bottles
select from the pull down menu your desired bottle type and size


Liquids:
3-5 times a day 7 drops (under the tongue) or
2 sprayer squirts (under the tongue) for healing purposes
and/or 12 drops (under the tongue) or
3 sprayer squirts (under the tongue) before meditation

For Liquids & Sprays:
Give as much time as possible after intake to sit or stand
with closed eyes to feel consciously their vibration unfold

Additional Uses for all liquids and sprays:
Apply directly to pulse points
Apply to acupressure and/or chakra points
Add to massage oils
Add to oil burners
Add to an atomizer or atomizer to add to the air
Add to paint or pottery or other art elements
to infuse the vibration within


FOR MORE INFO ON OUR HIGH VIBRATIONAL LIQUIDS