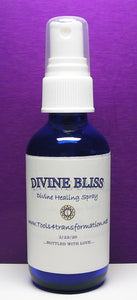 DIVINE BLISS
DIVINE HEALING SPRAY
This spray at a glance...
- transports to sacred space
-builds love quotient
-builds light quotient
-connects to higher chakras
-restores spontaneity
-strong sense of inner peace

This spray is designed for external use only
This spray is made up of the energies of Sai Baba which is healing on all levels,
strongly builds love quotient,
It brings forth peace and love in every living being (human, animal & plants),
softens hardened ego, helps overcome fear, clears negativity out of all
bodies, accelerating karma clearing, speeds up the way to personal
enlightenment.

Archangel Chamuel which brings the sweetest nectar of most divine pink
enters into the heart reminding us of the eternal Flame of love and Adoration
burning within.  This is purest love Divine beyond any labeling of female or
male.  The mind might get difficulties to accept this truth.  This purity of love
seems nearly unreal.  It is melting any hardness of the mind and starts bringing
it back into the flow.

Melchizedek which brings the highest yellow light of higher spirituality and
intelligence.  This liquid builds the light quotient very high and is very efficient
at joining the ascension seat of Melchizedek. Filling the body with a strong force
of high vibrational light which floods the cells and cleans disturbing energies out
of all bodies. It recreates the purity through all the systems while emanating
light from the inside to the outside surrounding the bodies.
Very efficient in easing the mind and brings clarity and peace to it.  

The 9th RAY which is The Higher Cleansing Ray - cleaning attitudes &
subconsciousness no longer serving.

The 20th RAY which relates to the 20th Chakra - that of BE -ing.

And the 22nd RAY which relates to the 22nd chakra -  the connection to
Source - our ultimate home

This spray is high, bringing bliss which in turn brings silence & internal peace.

A scent of a light Indian Musk is used to transport you to a sacred space of being.
If you have time, sit for a longer period in meditation
and watch the shifts within your own energies and the expansion of your
awareness into higher dimensions.
Liquids:
3-5 times a day 7 drops (under the tongue) or
2 sprayer squirts (under the tongue) for healing purposes
and/or 12 drops (under the tongue) or
3 sprayer squirts (under the tongue) before meditation

For Liquids & Sprays:
Give as much time as possible after intake to sit or stand
with closed eyes to feel consciously their vibration unfold

Additional Uses for all liquids and sprays:
Apply directly to pulse points
Apply to acupressure and/or chakra points
Add to massage oils
Add to oil burners
Add to an atomizer or atomizer to add to the air
Add to paint or pottery or other art elements
to infuse the vibration within


FOR MORE INFO ON OUR HIGH VIBRATIONAL LIQUIDS