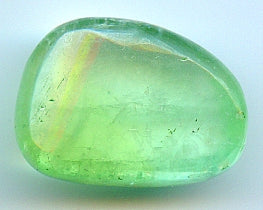 Green Calcite Liquid Gem /Vibrational Essence
Green Calcite Properties 
The Guardian of Green Calcite explains...
Green Calcite is a strong physical restorer in addition to bringing high healing energy/frequencies from beyond. This gem saturates the physical aspect and because of its higher vibration disharmonies are dissolved. (Disharmonies tend to not be able to survive in an atmosphere of a higher vibration.)   
Green Calcite bathes the body in the nourishment it requires. 
It's soothing, peaceful color vibration also calms the mind and emotions allowing for a deeper saturation in the physical. This provides lasting physical effects targeting the root of the problem rather than the surface issues.     
In most people, the physical effects are experienced in the breathing system. 
Much disharmony is "caught" and often stored in the lungs and this gem easily removes it while nourishing and restoring the tissues. This is a great tool for emotional breathing issues such as hyper-ventilating, asthma, etc. and can even be used in the treatment of lung cancer.    
Green Calcite emits unique healing energy which prepares one's physical being for the expansion of the entire being. This gem can be of great support for physical changes initiated by the expansion of the mind, healing of the emotions and the furthering of one's spiritual quest.
It promotes the unification of all aspects so discomforts arise less and less as one progresses. 
Often the evolving of the physical aspect is overlooked and focus is given to the other aspects to transform. The physical has immense potential, untapped by the majority and Green Calcite opens the door to transform this aspect in conjunction with all aspects to create a total transformed being. 
Also, as with all colors of Calcite, it has great benefits to the teeth and bones.

Liquid gems are available in several sizes including refill bottles
select from the pull down menu your desired bottle type and size


Liquids:
3-5 times a day 7 drops (under the tongue) or
2 sprayer squirts (under the tongue) for healing purposes
and/or 12 drops (under the tongue) or
3 sprayer squirts (under the tongue) before meditation

For Liquids & Sprays:
Give as much time as possible after intake to sit or stand
with closed eyes to feel consciously their vibration unfold

Additional Uses for all liquids and sprays:
Apply directly to pulse points
Apply to acupressure and/or chakra points
Add to massage oils
Add to oil burners
Add to an atomizer or atomizer to add to the air
Add to paint or pottery or other art elements
to infuse the vibration within


FOR MORE INFO ON OUR HIGH VIBRATIONAL LIQUIDS