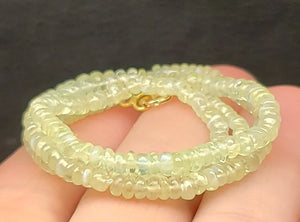 Chrysoberyl Cat's Eye Therapeutic Necklace 

Extraordinary Plus
2.5-4.25mm
15.75" with 14kt gold lock
38.1ct @ $10.25/ct
cat's eye strongly visible
Actual necklace shown in photos
only one available
This strand is a Yellow/Green Chrysoberyl so it offers all the benefits of both Yellow Chrysoberyl and Green Chrysoberyl. 
In addition the strand has a portion of Cat's Eye.
A note on Chrysoberyl Cat's Eye: Chrysoberyl is often found with what is referred to as "Cat's Eye". This luminescence is seen within the gem is actually a portal.  It intensifies the effects of the gem's working allowing for more frequencies of like kind to be transferred.     
If used consciously, these portals can offer one a gateway to experience the frequencies of the gem from its original state/place. This requires a form of "travel" on the user's part and receptivity must be present in order for this to be done successfully.     
It is important to note that the "Cat's Eye" element utilizes part of one's physical eyes in order to convey it's working. The frequency emitted can be sensed within one's "rods" which make up the retina. Through the utilization of the eyes, a positive effect on one's vision can occur.
Some of the highlights of Yellow/Green Chrysoberyl...
physical
promotes heart mending especially if imbalance is brought on by stress
helps to recover from exposure to radiation, including radiotherapy, chemotherapy & sunburn
aids in detoxification and removal of harmful substances & energies
relieves exhaustion & fatigue
great for digestive system and stomach ulcers
supports organ health
supports gradual weight loss
mental
reminds that the heart is the center of being - merging heart & mind
aids in ridding egoistic ideas, convictions and drives
overcomes uncertainty & procrastination
helps to identify areas in which control needs to be relinquished
promotes strong work ethic
helps improve memory
removes "bad"/hindering patterns & programs
emotional
balances intense emotions and aids to see higher perspective
breaks victim consciousness and drive to manipulate
promotes personal accountability
shields from psychological manipulation
establishes peace & harmony in your relationships
enhances ability to love & forgive
aids in expressing true feelings & letting go of hindering
removes negative or destructive emotions
increases self worth & resolve
spiritual
permits one to be receptive to abundance and divine gifts
increases mindfulness and being in the moment
promotes empathy, kindness, generosity & forgiveness
opens, activates, balances & heals sacral & heart chakras
helps to reach deeper level of inner peace, contentment & tranquility
Green Chrysoberyl Properties 
The Guardian of Green Chrysoberyl explains...
Green Chrysoberyl is a high-frequency gem which offers a rejuvenating, healing frequency quickly into one's systems. This frequency transforms (heals) aspects of oneself which affect one's overall vibration. This gem's main focus is to raise the vibration by removing an aspect of duality in order to create a higher vision of harmony within.   
Green Chrysoberyl continues the process of lessening the space between one's current state and the aspect of one's higher self. Indications of how to arrive at a new level of harmony are given to the wearer (or user) and can be acted upon (or not). This gem simply restores a higher level of harmony within, which in turn leads to a higher understanding and state of being rarely witnessed in Earth's dimension.
Yellow Chrysoberyl Properties 
The Guardian of Yellow Chrysoberyl explains...
Yellow Chrysoberyl is a high-frequency gem that introduces high frequencies into one's systems quickly.  If one is receptive, visions of understanding will be given that will perhaps change the perception of life currently held. These visions of understanding are easily accepted because they come from a light source already known (at least at the heart level) one's higher self.   
This gem can be used to continue one's light journey beyond areas already explored. This exploration increases the light held within one's current state along with the many aspects of self in other states. Yellow Chrysoberyl protects one's essence during these explorations making it the ideal gem to utilize for this specific task.
How to keep your necklace clean
Our preferred method of cleansing for the necklaces is using the Purple Positive Energy Plate. This plate not only cleanses but enlivens the gems to their optimal functioning.

More importantly - it is easy. You place the gems on the plate overnight and you have a newly energized necklace - ready to bring the utmost benefit to you. There is no concern of which gem can tolerate sunlight, which one can be in the water and which one can survive salt. All gems can be placed on the plate and be cleansed.

We offer Purple positive Energy Plates in two sizes -
small 4.5" x 2.75"
large 12" x 12" 
We also offer a cleaning kit which includes a small purple plate and a cleaning brush.