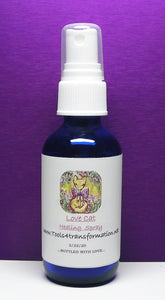 Developed in honor of the celebration Valentine's day the Love Cat Healing
Spray was crafted using specially selected Therapeutic Gemstones and
Therapeutic Grade Essential Oils.

Love Cat is a spray specially made for self gratitude and love.

This spray opens the heart chakra with the crown and brings
positive impacts on the ego, making a balance in all layers.  The
wonderful gems used in this blend are Pink Kunzite, Purple Garnet,
Pink Tourmaline, and Yellow Opal.

Imagine Pink Kunzite being your main flowers in a field, full of
beautiful soft loving pink energy that enters any issues with self
esteem, self-harm, and old emotional abuse.

Royal Purple Garnet reaches higher than the other flowers,
reaching your Third Eye and Crown Chakra which brings in
messages to help with further healing and maturity to leave old fear
or programs of love.
Pink Tourmaline brings a deeper shade of pink to your field of
emotions. It helps balance your masculinity and feminity whilst
bringing more awareness to emotions and openness to being soft.

Yellow Opal is the inside of the love flowers in your field. This gem
works on the Solar Plexus Chakra which is important for the love
aspects, it allows unconditional love with others and yourself
without putting anyone above or below or even putting yourself
below others.

Love is a beautiful, full, and uplifting part of us when we feed our
love with balance. Most times love is seen as something that causes
pain but that is only there without balance.

The essential oils in this blend are Blue Tansy, Lavender, Nutmeg,
and Nerolina. This combination is meant to bring a peaceful
afternoon feeling in a flower field with yourself or with the people
you love.


Liquids:
3-5 times a day 7 drops (under the tongue) or
2 sprayer squirts (under the tongue) for healing purposes
and/or 12 drops (under the tongue) or
3 sprayer squirts (under the tongue) before meditation

For Liquids & Sprays:
Give as much time as possible after intake to sit or stand
with closed eyes to feel consciously their vibration unfold

Additional Uses for all liquids and sprays:
Apply directly to pulse points
Apply to acupressure and/or chakra points
Add to massage oils
Add to oil burners
Add to an atomizer or atomizer to add to the air
Add to paint or pottery or other art elements
to infuse the vibration within


FOR MORE INFO ON OUR HIGH VIBRATIONAL LIQUIDS