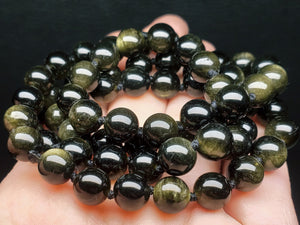 Golden Sheen Obsidian Therapeutic Necklace 
Extraordinary Plus Plus
8+mm
24.5" no lock
45.73g @ $2.50/g
Actual necklace shown in photos
only one available
Golden Sheen Obsidian is a black or deep brown Obsidian displaying a
golden chatoyance when viewed in strong light, created from gas bubbles
aligning across the layers during formation.


Some of the benefits of Golden Sheen Obsidian
- Golden Sheen Obsidian reflects what is needed for spiritual
transformation and personal evolution
- It shows the way to reach full realization and self authenticity
- Golden sheen Obsidian purifies aura
and dissolves negativity of all types
- Golden Sheen Obsidian clears third chakra blocks and issues, helping to
bring the most positive manifestation of the ego self
- It brings out hidden talents and helps to realize one's true calling/mission
- Golden Sheen Obsidian helps aligns one's power with that of the Divine  
reconnecting to the universal flow
- It is a powerful tool for earth workers as it helps to discern where specific
healing focus is needed
- Golden Sheen Obsidian is a powerful ally for all types of healers giving

potent support to Reiki practioners, shamans and others
The Guardian of Golden Sheen Obsidian explains...
All Obsidians are known for their purifying effects and the Golden Sheen is no different. Its focus relates to its gold color - centering on the third chakra within the body's systems and the 12th chakra relating to the Gold Ray.       

Let's first look at the third chakra influence. This chakra relates to the ego - personal power and energy. This gem helps to harness and focus the power and energy to achieve goals and manifest desires. It cultivates a positive approach to achievement with no struggle with others and even shields the wearer/user from those who may hinder or shoot down personal aspirations - creating an atmosphere of support and positivity conducive to making dreams - reality.     
Now on the higher levels - in particular, the 12th chakra - the Gold Ray - it brings forth self-realization and a greater connection to Source energy. It forms a bridge to higher energies while maintaining a grounded state. This, in turn, helps to solidify states of higher consciousness and intuitive abilities.     
Golden Sheen Obsidian also aids in attracting abundance on all levels. It serves as a magnet for those things which will bring about fulfillment and contentment which include wealth and prosperity. It unveils one's inner beauty, drawing out if needed, tends to harmonize all aspects and have the outer reflect the inner. Therefore, it can be used for weight loss.     
It's vibration balances energy fields making it an excellent tool for chakra alignment and balancing. It can also be used for issues associated with the nervous system ranging from anxiety and depression to MS, Alzheimer's, Huntington's, meningitis. It helps to promote balanced blood pressure and electrolytes and counteracts nutritional deficiencies. 

How to keep your necklace clean
Our preferred method of cleansing for the necklaces is using the Purple Positive Energy Plate. This plate not only cleanses but enlivens the gems to their optimal functioning.
More importantly - it is easy. You place the gems on the plate overnight and you have a newly energized necklace - ready to bring the utmost benefit to you. There is no concern of which gem can tolerate sunlight, which one can be in the water and which one can survive salt. All gems can be placed on the plate and be cleansed.
We offer Purple positive Energy Plates in two sizes - 
small 4.5" x 2.75" 
large 12" x 12"
We also offer a cleaning kit which includes a small purple plate and a cleaning brush.
VISIT HERE FOR PURPLE PLATES