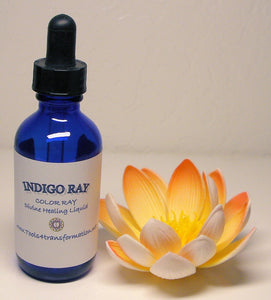 Indigo Ray
Vibrational Essence - Divine Healing Liquid
Path to Self-Realization: mercy, forgiveness
Primary Spiritual Goal: integration, wisdom, justice
Positive Mental Attributes: intuition, synthesis, structure
Positive Emotional Attributes: caring, perseverance
Negative Mental Attributes: perfectionism, prejudice, judgment
Negative Emotional Attributes: disdain/hate and bitterness
Symbols: egg
Power Animal: frog
Musical Note: la
Body Organs: liver, skeletal
Planet: Saturn
Zodiac Signs: Cancer, Sagittarius
Material: silica, calcium
Numbers: 7, 14, 21

Indigo-ray people are intuitive. They can figure out what is missing or
give clues to help resolve unsolvable problems. Look to the indigo
person to have thought out all the angles from which to approach a
problem in a simple, elegant way. They manipulate energy well. They
speak in terms of correlation and metaphor when relating to others.
They would do well as scientists or writers and are often found in
contemplation and like to develop an overview from a private
perspective. They may protect their fears as they have some difficulty
trusting others or believing others can understand them. Their thoughts
can run deep, though they may talk about superficial things to avoid
conflict. An indigo-ray person must avoid their fears. It may not be
easy for an indigo-ray person to know that fear is at work when they
insulate themselves using rationalization. Simplifying their truth will set
them free. If they can learn to motivate themselves, the future may
hold great promise for their inventions and they can excel in structural
engineering with surprising insight and creativity. They can make things
work like no one has before.
Liquid gems are available in several sizes including refill bottles
select from the pull down menu your desired bottle type and size


Liquids:
3-5 times a day 7 drops (under the tongue) or
2 sprayer squirts (under the tongue) for healing purposes
and/or 12 drops (under the tongue) or
3 sprayer squirts (under the tongue) before meditation

For Liquids & Sprays:
Give as much time as possible after intake to sit or stand
with closed eyes to feel consciously their vibration unfold

Additional Uses for all liquids and sprays:
Apply directly to pulse points
Apply to acupressure and/or chakra points
Add to massage oils
Add to oil burners
Add to an atomizer or atomizer to add to the air
Add to paint or pottery or other art elements
to infuse the vibration within


FOR MORE INFO ON OUR HIGH VIBRATIONAL LIQUIDS