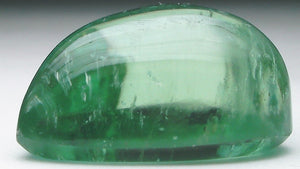 Green Kunzite Liquid Gem /Vibrational Essence
Green Kunzite Properties 
The Guardian of Green Kunzite explains...     
Green Kunzite provides anchoring of spiritual love into the being.
This then provides the basis for feeling a deeper sense of self and fuller acceptance of not only the self but to accept support and love from others. It allows one to be open to connecting with others, with the planet, and with the universe, sharing the space of Oneness and putting to rest the misperceptions of separateness.     
Green Kunzite draws in healing from the higher realms and can give insight to one's physical aspect. It helps to correct chemical imbalances, be it hormonal, prescription drug-related or even from influences of overuse of recreational drugs and/or alcohol. It provides lasting results to overcome habits, patterns, and programs supporting a fresh start. 
It brings love in to conquer fear and the responses based on fear while shielding unwanted energies and mental influences. 
Green Kunzite has a powerful influence on the heart and heart chakra along with opening the higher heart chakra. It heals old wounds and emotional upsets that seemed impossible to overcome stimulating and restoring joy.  It encourages a renewed commitment to the higher self and one's purpose here on the planet.
Liquid gems are available in several sizes including refill bottles
select from the pull down menu your desired bottle type and size


Liquids:
3-5 times a day 7 drops (under the tongue) or
2 sprayer squirts (under the tongue) for healing purposes
and/or 12 drops (under the tongue) or
3 sprayer squirts (under the tongue) before meditation

For Liquids & Sprays:
Give as much time as possible after intake to sit or stand
with closed eyes to feel consciously their vibration unfold

Additional Uses for all liquids and sprays:
Apply directly to pulse points
Apply to acupressure and/or chakra points
Add to massage oils
Add to oil burners
Add to an atomizer or atomizer to add to the air
Add to paint or pottery or other art elements
to infuse the vibration within


FOR MORE INFO ON OUR HIGH VIBRATIONAL LIQUIDS