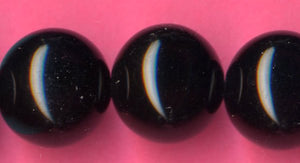 Black Onyx Liquid Gem /Vibrational Essence
Black Onyx Properties 
The Guardian of Black Onyx explains...
Black Onyx is a gem of support and strength for the being.
Its energies target the core (or base) restoring balance within one's foundation of being. The stability this gem provides allows one to "deal" with all kinds of life situations. It builds/rebuilds personal strength, self-esteem and confidence. Black Onyx is known as a gem to help overcome addictions because of this. One experiences such strong stability and strength within that the need to escape through other means is no longer needed (such as smoking, drinking, etc.).     
Black Onyx also expands its energies through the chakras of the midsection and throat. It restores the balance facilitating an even stronger awareness of the presence of one's being.
An energetic harmony is created through the chakras which receive whatever inputs needed (frequencies, vibrations, and/or colors) to maintain the balance.     
Black Onyx's effects translate over to all aspects of one's being. The mental has direction, the emotions are stable and one feels in alignment not only with one's Self but with the world and beyond. Black Onyx is a great gem for those who explore or work with high frequencies, dimensions, etc. as it provides the perfect counterbalance.

Liquid gems are available in several sizes including refill bottles
select from the pull down menu your desired bottle type and size


Liquids:
3-5 times a day 7 drops (under the tongue) or
2 sprayer squirts (under the tongue) for healing purposes
and/or 12 drops (under the tongue) or
3 sprayer squirts (under the tongue) before meditation

For Liquids & Sprays:
Give as much time as possible after intake to sit or stand
with closed eyes to feel consciously their vibration unfold

Additional Uses for all liquids and sprays:
Apply directly to pulse points
Apply to acupressure and/or chakra points
Add to massage oils
Add to oil burners
Add to an atomizer or atomizer to add to the air
Add to paint or pottery or other art elements
to infuse the vibration within


FOR MORE INFO ON OUR HIGH VIBRATIONAL LIQUIDS