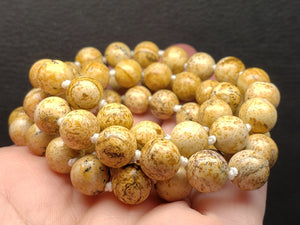 Picture Jasper Therapeutic Necklace 
Extraordinary Plus Plus
8+mm
26" endless/no lock
55.5g @ $1.65/g
Actual necklace shown in photos
only one available
The Guardian of Picture Jasper explains...
Picture Jasper gives insight into one's condition by allowing a "picture" to form of what is happening. It helps to bring to the surface what is the root of problems/issues which generally fear-related. Problems/issues are common symptoms of something which has been denied or not dealt with. Picture Jasper supports bringing forth what is needed to clear things in its entirety.
Picture Jasper has a great effect on the kidneys, helping to flush and cleanse them. This gem also has a smoothing effect on the skin and can be used to treat rashes, irritations, and even wrinkles.
Picture Jasper inspires creativity to better one's life and to help the Earth to recover from the effects of humanity. In meditation, it can be used as a beginning tool to connect to the manifesting abilities within. It also easily connects to the Earth's energy inspiring a unity to be experienced and a motivation to make changes for a positive impact on the Earth as a whole.
Picture Jasper promotes a clear picture of one's self and the world, increasing the awareness level. This opens the door to endless possibilities as anything can be changed if the awareness is there. 

How to keep your necklace clean
Our preferred method of cleansing for the necklaces is using the Purple Positive Energy Plate. This plate not only cleanses but enlivens the gems to their optimal functioning.
More importantly - it is easy. You place the gems on the plate overnight and you have a newly energized necklace - ready to bring the utmost benefit to you. There is no concern of which gem can tolerate sunlight, which one can be in the water and which one can survive salt. All gems can be placed on the plate and be cleansed.
We offer Purple positive Energy Plates in two sizes - 
small 4.5" x 2.75" 
large 12" x 12" 
We also offer a cleaning kit which includes a small purple plate and a cleaning brush. 

VISIT HERE FOR PURPLE PLATES