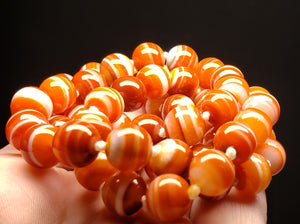 Red Sardonyx Therapeutic Necklace
Extraordinary Plus Plus 
8.8mm-9.8mm 
24" endless/no lock
63.23g @ $1.60/g
Actual necklace shown in photos
only one available

How to keep your necklace clean
Our preferred method of cleansing for the necklaces is using the Purple Positive Energy Plate. This plate not only cleanses but enlivens the gems to their optimal functioning.
More importantly - it is easy. You place the gems on the plate overnight and you have a newly energized necklace - ready to bring the utmost benefit to you. There is no concern of which gem can tolerate sunlight, which one can be in the water and which one can survive salt. All gems can be placed on the plate and be cleansed.
We offer Purple positive Energy Plates in two sizes - 
small 4.5" x 2.75" 
large 12" x 12" 
We also offer a cleaning kit which includes a small purple plate and a cleaning brush. 

VISIT HERE FOR PURPLE PLATES