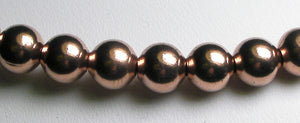 Copper Liquid Gem /Vibrational Essence
Copper Properties 
The Guardian of Copper explains...
Copper directs energy towards the pursuit of higher evolution, reaching for that something more,
but with a focus on a universal perspective rather than a self-centered one.
Its energies embrace the spiritual approach and help to advance intuition, increase vitality and renew/restore life force energy.
Copper helps to initiate a more positive outlook on life and attracts good and even luck to support a better outcome. In wearing/working with copper, one has a higher level of self-acceptance and can suspend judgment of the self and others. It encourages one to seek to be a better version of one's self on all levels be it spiritually, mentally, emotionally or physically.
It helps release limitations, hindrances, and self-doubt - making success easier. Those who are plagued with boredom, lethargy, restlessness or even depression, will find this to be a potent tool to move out of those states and experience a zest for life, humanity and the planet.
Copper can help to magnify energy transfer. This can be seen through a clearer and more easily understood communication - be it verbal or written. Speaking and/or writing, using Copper as an ally, will help one become more engaging and much more can be conveyed in fewer words.
The magnified energy transfer can also be of great benefit to healers, and caretakers, as it will magnify the healing abilities (such as massage, energy work, reiki, remote sessions, etc.), encourage intuitive inputs and overall increases one's healing potential.
Copper is well known in healing/helping with arthritis and joint pain but it even has expanded physical effects. It helps the electrical system, meridians along with our subtle and astral bodies to function optimally. It helps issues of the blood to harmonize, balance and heal all types of disorders. It also assists with metabolic processes which in turn can stabilize hormones and weight.
It should be noted that there is more and more evidence that many are copper deficient as the nutrient level in the food we are taking in is depleted.
Using one of our necklaces is an easy way to help with addressing Copper deficiencies.

Liquid gems are available in several sizes including refill bottles
select from the pull down menu your desired bottle type and size


Liquids:
3-5 times a day 7 drops (under the tongue) or
2 sprayer squirts (under the tongue) for healing purposes
and/or 12 drops (under the tongue) or
3 sprayer squirts (under the tongue) before meditation

For Liquids & Sprays:
Give as much time as possible after intake to sit or stand
with closed eyes to feel consciously their vibration unfold

Additional Uses for all liquids and sprays:
Apply directly to pulse points
Apply to acupressure and/or chakra points
Add to massage oils
Add to oil burners
Add to an atomizer or atomizer to add to the air
Add to paint or pottery or other art elements
to infuse the vibration within


FOR MORE INFO ON OUR HIGH VIBRATIONAL LIQUIDS