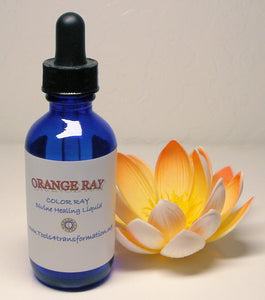 Orange Ray
Vibrational Essence - Divine Healing Liquid
Path to Self-Realization: surrender
Primary Spiritual Goal: spiritual presence, valor, soul perception
Positive Mental Attributes: discrimination, initiative, spontaneity
Positive Emotional Attributes: happiness, joy, enthusiasm
Negative Mental Attributes: confusion, disillusionment
Negative Emotional Attributes: lust, withholding/victim
Symbols: a five-pointed star
Power Animal: butterfly
Musical Note: re
Body Organs: lungs
Planet: Sun
Zodiac Sign: Aries
Material: sulfur, wood
Numbers: 5, 12, 19

Orange-ray people are spontaneous and lively. They are often the first
in a group to decide their course in any given circumstance and can
influence others with their enthusiasm. They like to meet challenges
and make good salespeople or travel agents. They are often outgoing,
but may enjoy their own world of joyful fantasy when not encouraged
by life or family. Their ability to step off into the unknown may make
them popular in some circles, however, risk-taking may not always be
their best solution. Orange-ray people can be very genuine and can also
be willful or self-absorbed if they do not learn how to relate to others.
Those who can practice discrimination and go with the flow will be
natural seers or mystics. Unlike the indigo person, their idea of
mysticism is more a form of direct knowing. Orange-ray people can be
quite amazing in their candor particularly when explaining their
purposes. To excel, they must learn the difference between their latest
idea and a well-founded decision based on the commitment that comes
from the ability to see the big picture in the light of love.
Liquid gems are available in several sizes including refill bottles
select from the pull down menu your desired bottle type and size


Liquids:
3-5 times a day 7 drops (under the tongue) or
2 sprayer squirts (under the tongue) for healing purposes
and/or 12 drops (under the tongue) or
3 sprayer squirts (under the tongue) before meditation

For Liquids & Sprays:
Give as much time as possible after intake to sit or stand
with closed eyes to feel consciously their vibration unfold

Additional Uses for all liquids and sprays:
Apply directly to pulse points
Apply to acupressure and/or chakra points
Add to massage oils
Add to oil burners
Add to an atomizer or atomizer to add to the air
Add to paint or pottery or other art elements
to infuse the vibration within


FOR MORE INFO ON OUR HIGH VIBRATIONAL LIQUIDS